5 STRATEGIES FOR AN EFFECTIVE EMAIL MARKETING CAMPAIGN – PR News Blog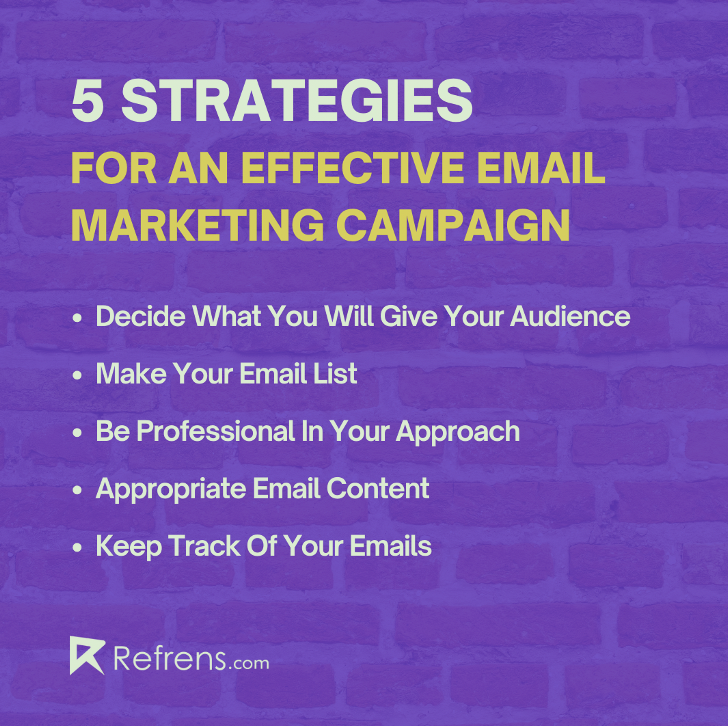 It's 2022, we all have email addresses and are used to checking them regularly. Email marketing is a powerful and indispensable technique for many digital marketers due to the heavy use of emails.
Email marketing is more effective than social media marketing in some ways. People are divided on social media; some use Facebook, others use Instagram, etc. An email address, on the other hand, is a specific place where you can reach and approach your entire audience.
Here are five ways email marketing can help you grow your business.
1. Decide what you will offer your audience
First and foremost, you need to decide what will be included in your emails. This will help you narrow down your target market. It ensures that your subscribers receive updates and are thrilled because they will receive exactly what they want.
Also, the natural way is to share more knowledge rather than sell. When you give your audience the information they want, they will appreciate your emails and value your business.
Also, there's nothing wrong with selling through email campaigns, but people don't appreciate you talking about your product personally.
You need to provide them with information via email first, then direct them to your website for more details. You should be able to sell from your website after they arrive.
You can even target newsletters, direct sales, and other categories. Information Sharing (This doesn't have to be limited to your business information; for example, if you own a bakery and your target audience likes cakes, you can share what's going on in the cake industry.)
Therefore, once you have decided what you are going to discuss, your audience will be more likely to open your emails than delete them.
2. Create your mailing list
Now you need to build your email list, which will continue to grow as your business or brand grows.
It won't work if you get a mailing list and then start spamming their inbox. Like, there is no way to know whether or not a random person will open a random email in their mailbox.
Consider this: are you opening these emails randomly?
Also, grow the email list, but knowing that people are there for a reason. Keep a page on your website where people can learn how to sign up to receive your emails. Then, send a confirmation email to everyone who signs up for your newsletter.
On top of that, there's a chance that they misspelled their email address or someone else mistyped it, and sending them a confirmation email makes them feel special and supported.
Also, you need to be patient as this is not a night shift. You can acquire thousands of subscribers, but if only two of them are your customers, you won't know it. So instead of going to them, invite them to come to you.
Also, if you have all your customers' email addresses and want to subscribe to them, make sure you get their consent first.
First, send an email describing what you are going to do and what you will get in those emails (the first bullet point).
Then, if they want to subscribe, give them a simple option to do so.
TIP: Remember that even though the people on your list aren't your customers, they are potential prospects. Who will you return if you give them something of value?
3. Be professional in your approach
Being professional does not imply perfection.
Plus, you should treat your email list like gold, even if you're a small business with only 50 subscribers.
Things to consider if you want to keep your business email.
Keep your emails to a minimum.
It's not a good idea to make your emails too long and difficult to read.
Also, think of it as a graph, where the x-axis represents the length of your email and the y-axis is their probability of reading it. The higher the X-axis line, the less likely they are to read.
Therefore, if you want to simplify your work and make it look professional, shorten difficult sentences. You can use a variety of online tools to ensure it is free of grammatical errors.
If you're sending an invoice to a customer via email, for example, be sure to use a good, professional invoice to establish trust. If you don't have a professional invoice template, you can use Refrens' online invoice generator to create several invoice templates including your logo.
When you use links in your emails, it shows them the next step after reading the email. Also, if you send emails without links, they will read and delete them.
Therefore, if you include links, they will act on your email, which will be satisfying for them and for you.
Also, if you got information from another source, include a link to their website in your email; there is no shame in admitting that you got this information from another source.
Therefore, if they choose to buy your products or take the next step, always include a link to your website page at the end.
Keep a catchy topic in mind.
The first thing your recipients will see is who is sending the email, followed by what it is about. Therefore, a compelling subject line will entice them to open the email immediately. Recognize their preferences and act accordingly.
4. Appropriate email content
They came to you for the content!
If your material is not improving day by day, people will unsubscribe with a click, even if you are very professional and have a large mailing list.
Therefore, the best method to write good content is to learn more about the topic you are writing about.
Additionally, watch YouTube videos, read reviews of what other people are saying, read a book about your product, and be aware of your competitors and what they are doing.
Also, if you have specific expertise, your email will be short, to the point, and filled with data.
Reading more will help you write better material; the more you read, the better your sentence construction and word selection will be.
Don't use your content to manipulate people. Just be authentic; don't try to fit them into a system or increase your sales; instead, share what you've learned.
Also, allow them to walk by your side once you've wondered about something.
5. Keep track of your emails
Keeping track simply means determining whether your hard work is paying off or not.
Many websites can help you with this.
Also, you can change the situation once you know where the problem is, but don't stay in the dark and be blinded by what's going on.
Therefore, if you have a long list of email addresses but few people open them, the problem could be in your subject line, or your emails could be bouncing and not reaching them.
Therefore, Keeping track will show you which emails performed well and let you focus on what they liked.
Stay alert, but don't get too excited if your marketing strategy isn't producing results; it will eventually.
Conclusion
Email marketing always produces results.
On the other hand, he progressed. It is no longer enough to send the same email to everyone. Your email marketing strategy needs updating.
Also, now you need to send messages to specific people. Personalized messages optimized for many devices.
Moreover, you have to test new elements. Trends change quickly and what worked a year ago might not work today. Let yourself be tested. And once you figure out what works, use triggered emails to automate it.
Customers will be more responsive if you include these strategies mentioned above in your email marketing plan. Therefore, the effectiveness of the campaign will increase and your business will continue to grow.